25% off Bed & Breakfast
Monday 13th July 2020 - Monday 30th November 2020 
To celebrate the announcement of the hotel (provisionally*) re-opening on Monday 13th July we are giving all Club Select members an exclusive 25% off promo code off all Bed & Breakfast bookings if booked before Monday 13th July 2020.  
Use promo code CLUBSELECT25 when booking online.
Applies to bookings between 13th July 2020 and 30th November 2020. No deposit will be taken at the time of booking. Guests can cancel 2 days before arrival.  If cancelled within 2 days of arrival 100% of the first night will be charged.  
Please note that the bar and restaurant remain closed and all dining (including breakfast) will be served to the room (at no extra charge).  
*The Welsh Government have announced a provisional re-opening date for self-contained holiday accommodation (including Hotels providing a room service) of Monday 13th July.  This will be reviewed and confirmed on Friday 10th July.   Please refer to our booking guarantee and our COVID-19 Safety Protocols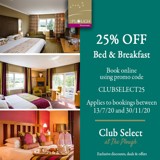 Terms & Conditions
25% off is for members subscribed to our Club Select mailing list or members of our Club Select Facebook group. 
Discount applies to Bed and Breakfast rates only.
Please refer to current room prices via our online booking system.  
25% discount is only valid for new bookings and rooms booked between 13/07/2020 and 30/11/2020
To make a booking, use promocode CLUBSELECT25 prior to searching your preferred dates.
Cannot be used in conjunction with any other offer.  
Management reserve the right to amend or withdraw the offer without notice.
What is Club Select?
Club Select is a group for our customers to get access to exclusive discounts, offers & deals.  The aim of the group is to reward our loyal customers and followers.  
What type of offers, discounts & deals will I receive?
Club Select members will have first access to all offers and deals, including last minute availability too.  Occasionally we will post limited time offers and discount codes that will only be available to Club Select members.  To ensure you get these deals, ensure that your notifications are turned on for the Facebook group and you list our email as a contact in your email provider. 
How can I be a part of Club Select? 
In order to be part of our Club Select you will need sign up to our Club Select mailing list here 
How will I find out about the Club Select offers?
All offers will be sent out to those on our mailing list and featured in our VIP group on Facebook Club Select at The Plough Facebook Group
Get in Touch
Our friendly and helpful team are waiting to answer any queries you may have or take your booking.